Rome Agent Rocker 160midwide Snowboard
$599.95
Designed to rip the deep, haul down the steep and claim the jump line in the park, the Rome Agent Rocker Snowboard is a beast that does it all. The Agent operates under your authority, like a secret weapon or partner in crime. Equipped with MTNPop 2.0 which places rocker underfoot for great soft snow planing and dropping a cliff or five . . . all in one run. Durable and strong, the SuperPop Core and Impact Edges ensure the Agent Rocker will maintain its performance even when you're clocking in more hours at the hill than at the office. Get a board that loves the mountain and all her beauty as much as you do – the Rome Agent Rocker Snowboard.
ROCKER TYPE
MTN Pop Rocker 2.0 – Rocker directly between your feet allows the contact points to touch the snow when the board is under no pressure. The nose and tail are cambered. In turn, the deck carves like a dream and ollies with ease while offering stability, float and playfulness.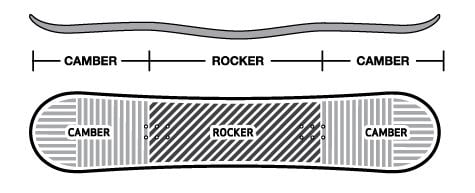 SHAPE
Almost Twin – Everything is perfectly symmetrical, but the nose is slightly longer than the tail to help you float in powder.
Quickrip Sidecut – Off-set sidecuts for buttery playfulness at slow speeds and control at high speeds.

CORE
SuperPop Core Matrix – Increased pop and snap with the use of long poplar wood sections combined with three separate zones of low-density wood for lightness.

TurboRods | Carbon Double Barrel – Milled out channels in the core are replaced by carbon rods. The result is improved pop, flex, and durability while reducing vibrations and impact.

LAMINATES
Z-Tech 1.0 – A band of Zylon down the core improves the flex, pop and power of the board without adding weight or stiffness.

StraightTriax 30 – The go-to laminate for all-terrain snowboards. 30-degree fibers provide enough flex to butter and press while still providing enough responsiveness to slay turns and boost ollies.

BASE
SinterSpeed – Rome used a high-end sintered compound to bring new levels of speed to your riding. SinterSpeed retains the absorbed wax helping you maintain max speeds between waxes for effortless ripping and jump boosting.
In stock
Compare