Rome Factory Rocker 155m Snowboard
$349.95
Go fast, shred hard and wherever the heck you want on the hell-born RomeFactory Rocker Snowboard. Designed to take over and transform your all-mountain riding skills by giving you the pop, precision and board control for tight turns and big airs. The rocker profile between your feet is so mellow it is practically flat, meaning extra stability if you decide to take a few park laps. The Factory offers you outrageous control and edge hold due to the Quickrip Sidecut. For riders always seeking out new trails, new terrain, and challenging themselves with new tricks, the Rome Factory Snowboard will surely support that mindset.
ROCKER TYPE
MTN Pop Rocker 2.0 – Rocker directly between your feet allows the contact points to touch the snow when the board is under no pressure. The nose and tail are cambered. In turn, the deck carves like a dream and ollies with ease while offering stability, float and playfulness.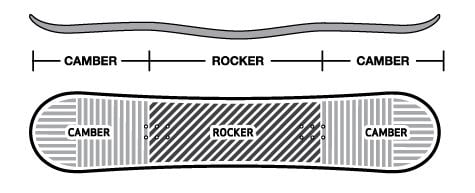 SHAPE
True Twin – A true twin snowboard shape is ideal for riders who want to ride switch and do some tricks. The nose and tail are identical and the flex is evenly distributed throughout the entirety of the board. True twins are perfectly symmetrical.
Quickrip Sidecut – Off-set sidecuts for buttery playfulness at slow speeds and control at high speeds.

CORE
Pop Core Matrix – Two zones of ultra-lightweight wood with the body of strong poplar wood. The result is a poppy, buttery deck with plenty of response for versatility.

Bambooster Technology – Milling two parallel rods of sustainable bamboo directly into the board's wood core makes for a snappy and fully-loaded pop.
LAMINATES
StraightBiax – Rome's laminate for riders who make the most out of any terrain. 90-degree fibers optimize the deck's flex.

Glass Reverse V Stringer Technology – The fiberglass is in a 'v' pattern with slight radius channels so you can power into ollies and nollies with minimal torsional rigidity.

BASE
XTRD – Strong, fast, low-maintenance extruded base material. Wax every now and again for the best results.
Die-Cut Base – Base color displayed may not be available. Base colors may vary.
BINDING COMPATIBILITY
In stock
Compare